---


NAS, SAN, SonicWall Cisco 44U rack server network stack reconfiguration time
by Mountain Computers Inc, Publication Date: Saturday, March 18, 2023
View Count: 105, Keywords: Rack Server, 44U, 22U, Reconfiguration Time, Hashtags: #RackServer #44U #22U #ReconfigurationTime
---
The time has come this year to reconfigure my 44U rack server.
Questions:
1. do I break it down and go with 22U and consolidate?

2. replacement of my edge routers?
3. update power protection or not?
Easy questions with answers if you are like me, always expanding and compressing.
For #1, I will relocate all my 2U and 4U servers to the bottom of the rack since I am adding storage which is heavy.
For #2, I will get with SonicWall and consider trade-in and trade-up since I have: 2 each Cisco RV 320, 1 each TZ210 Wireless-N, 1 each Cisco SOHO, 2 each TZ100, 2 each Cisco RV 4000, 2 each FVS318
For #3, The APC power protection slab is good. Trade-in or trade-up time? It can handle 3 hours at 25% load, 2 hours at 50% load, 1 hour at 100% load.
I'll just have to wait for response from my vendor representatives at Cisco, SonicWall and APC.
I have 2 of these 4U: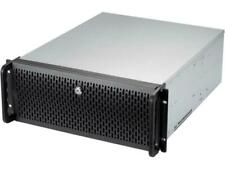 I have one of these 4U half full of storage:

and my SonicWall TZ400 series going to a TZ500 series:
and I am going to reconfigure it inside of this:
more to come...

---
if you found this article helpful, consider contributing $10, 20 an Andrew Jackson or so..to the author. more authors coming soon
FYI we use paypal or patreon, patreon has 3x the transaction fees, so we don't, not yet.
© 2023 myBlog™ v1.1 All rights reserved. We count views as reads, so let's not over think it.